Joan Rodman Memorial Plant Preserve – Saline, MI
Joan Rodman Memorial Plant Preserve – Overview
This southern floodplain forest provides food and shelter for many animals while benefiting humans by providing areas for water overflow to prevent flooding. The sanctuary protects property on both sides of the Saline River for about 750 feet.
Joan Rodman loved this land and wanted others to enjoy it as much as she did.
— Michigan Nature Association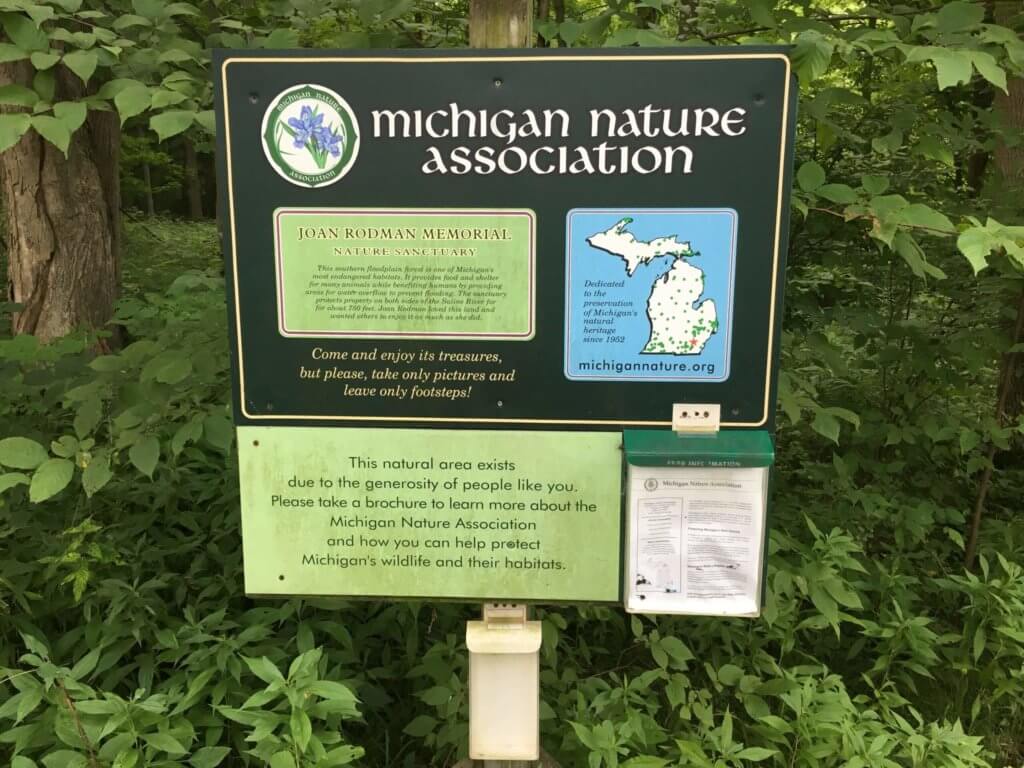 RATING
Scenery – 4
Trail Condition – 3
Quiet/Solitude – 2
Difficulty – 1
Overall – 3
Location – Lodi Township (see map below)
Gear Suggested – Daypack, Water Bottle, Waterproof Boots, Long Pants & Sleeves
The Walk
The preserve sits just off of what appears to be a long driveway. At first, we were not sure if we found the right place. There are signs to show you where the entrance is and where to park.
The trail starts off through the woods as a simple dirt road. As you travel deeper into the preserve, it fades out and you are left on smaller trails and paths leading down to the river.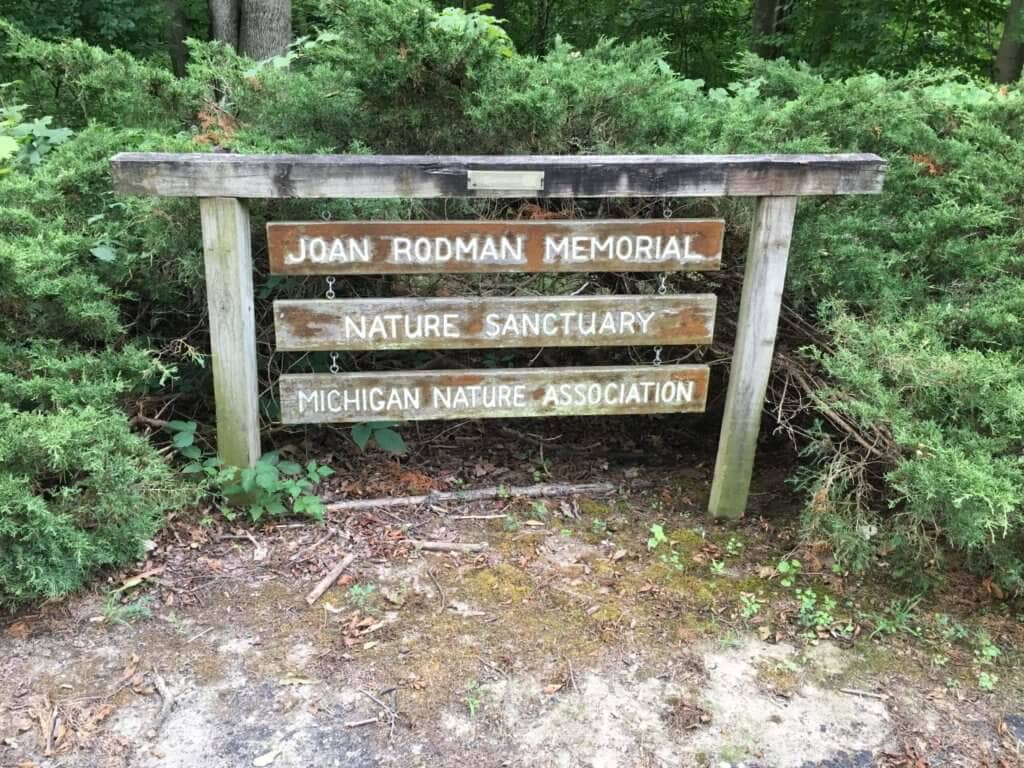 The forest floor is covered with thick and diverse undergrowth. The rich soil along the floodplain provides plenty of nutrients to keep a large array of native plants growing and healthy. Our trip was in midsummer, so we missed out on the spring flowers that must cover this whole area.
We continued walking back to the river and enjoyed the coolness of the forest. Even though it was 90+ degrees out in the sunshine, it was cool and relaxing near the river's edge.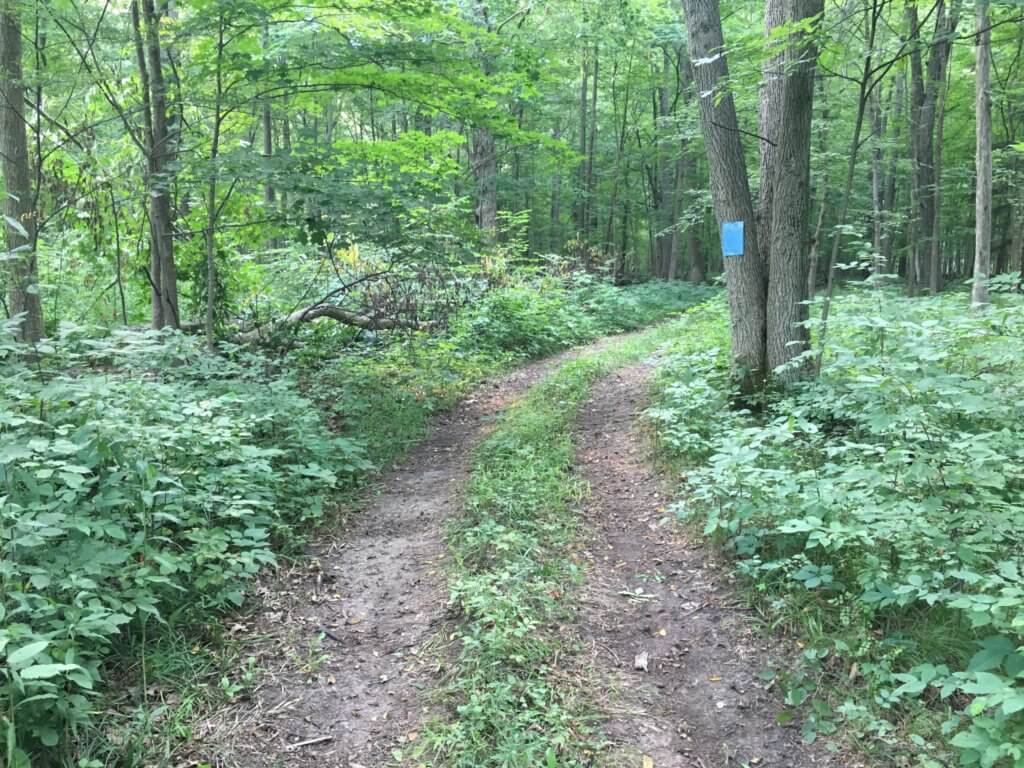 Conclusion
I can see why Joan loved this place and would recommend it for a quick recuperative nature walk any day.
No bikes or powered vehicles are allowed in the preserve.
Path Taken
Total distance:
0.86 mi
Max elevation:
801 ft
Min elevation:
788 ft
Leave No Trace and Obey The Park Rules
Please Remember
Always leave no trace, pack out everything you take in. We suggest that you bring an empty bag with you so you can pack out your trash and remove any that you see along the way.
Stay on marked trails. Straying into the undergrowth can damage delicate ecosystems.
Parks and preserves are surrounded by private lands. Please be respectful of property boundaries and stay inside the public land.
Let someone know where you are going. Some areas have limited or no cell service, so if you get stuck you may not be able to call for help.
Read the notes, warnings, and information provided at the park readerboard/kiosk. There may be closed trails or special seasonal information.
Respect the no bikes, no dogs, and no horses rules. These are posted and may be updated at any time.
Respect wildlife and nature. Do not approach or disturb animals or birds living in the area.
Leave only footprints – Take only pictures.
For more information on Leave No Trace – see LNT.org
Where is this?
Facts