Exploring the Past at Fox Science Preserve
Overview
About 12,000 years ago, the glaciers covering Michigan rolled back to the arctic, leaving behind a bare landscape. An area like this is called a Moraine and it is strewn with rounded boulders, and piles of sand, and is devoid of soil. Slowly the lichens and other pioneering species claimed the barren rocks and stabilized the soils. Following the lichens are mosses, insects, and small plants. These organisms then create the soil needed by trees and larger animals that eventually fill out an entire ecosystem. This whole natural progression can be examined in the natural classroom at Fox Science Preserve.
Fox Science Preserve sits between Ann Arbor and Dexter in an old gravel quarry. The machines that dug deep into the soil are now gone, leaving behind a scene not too different from the glacial moraines of 12,000 years ago. This rocky and barren surface soon was recognized as a natural classroom for the study of biological succession. Teachers, students, and parents began exploring the boulders and limestone surfaces, observing as nature begins its transformation of the empty quarry into a fully functioning ecosystem.
The Fox Science Preserve, established in 2007, is a favorite of local science teachers. This 69-acre nature preserve provides a fascinating look back in history to the era when the glaciers retreated from Michigan.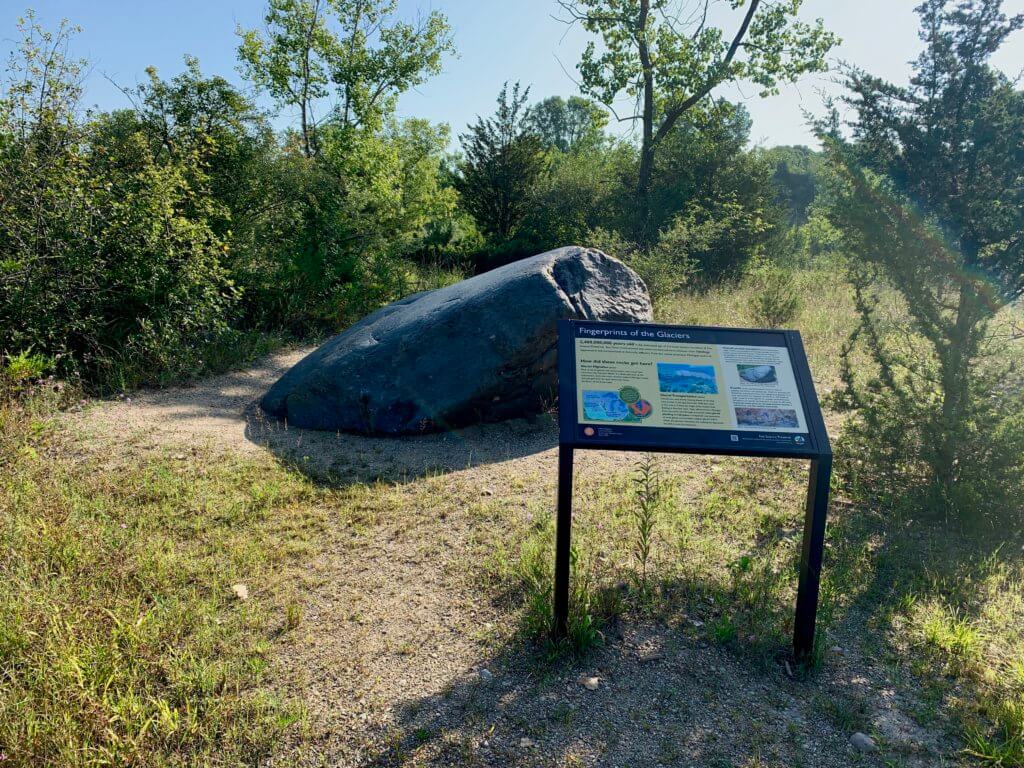 RATING
Scenery – 4
Trail Condition – 3
Quiet/Solitude – 2
Difficulty – 1
Overall – 3
Location – Scio Township (see map below)
Gear Suggested – Daypack, Water Bottle, Waterproof Boots, Long Pants & Sleeves
Fox Science Preserve -The Walk
Whenever I hear that a park is an ex-gravel pit, my expectations are set rather low. Excavation pits tend to be little more than a hole in the ground with a groundwater lake at the bottom. What I found at Fox Nature Preserve far exceeded that outlook.
Starting at the back of the parking lot, a sloping trail leads back along the edge of a neighboring property into the woods. After a short walk through the trees, the path opens up into the preserve's grasslands.
From there, the path leads through the center of the bouldered area and continues on to a set of small ponds at the north end of the park. These ponds host a lively population of minnows, frogs, and small birds and are well worth poking around. (Note – These ponds border on private property, so please remember to keep your distance).
The path through the preserve's total length is only about a half-mile, but there are plenty of places to explore and climb throughout the area. There is also a loop off to the west that takes you around the central boulder features and is worth exploring.
Education
Situated near the paths are educational placards explaining the history and science of what you see around you. Make sure to look closely at the limestone rocks and boulders for signs of fossils showing the animals that once lived here.
On the east side of the preserve is the remnant of the pit's wall. Crumbling limestone has built up along the edge, creating a place for trees and bushes to begin to grow. As these trees grow, they will help develop better soils and enhance the diversity of the plants and animals living here.
I spent the afternoon exploring the rocks and will be interested in returning over the years to see how the ecosystem continues to develop.
Fox Science Preserve – Conclusion
I would highly recommend Fox to anyone interested in natural science who wants to see nature in action.
Notes
Fox Preserve is surrounded by private residences, and there is a driveway that passes through the preserve to a "land-locked" home to the east, please remember to respect their privacy.
Update Note – I was contacted by a neighbor of FSP. This pocket preserve is surrounded by people's homes, they love the preserve as much as anyone and are happy people visit, however, please be respectful of their property and privacy. Additionally, the remains of the pit walls are incredibly fragile and should not be climbed or dug into in any way.
Path Taken
Total distance:
1.4 mi
Max elevation:
910 ft
Min elevation:
854 ft
Gallery
Below are some of the sights we found while walking that day.
Leave No Trace and Obey The Park Rules
Please Remember
Always leave no trace, pack out everything you take in. We suggest that you bring an empty bag with you so you can pack out your trash and remove any that you see along the way.
Stay on marked trails. Straying into the undergrowth can damage delicate ecosystems.
Parks and preserves are surrounded by private lands. Please be respectful of property boundaries and stay inside the public land.
Let someone know where you are going. Some areas have limited or no cell service, so if you get stuck you may not be able to call for help.
Read the notes, warnings, and information provided at the park readerboard/kiosk. There may be closed trails or special seasonal information.
Respect the no bikes, no dogs, and no horses rules. These are posted and may be updated at any time.
Respect wildlife and nature. Do not approach or disturb animals or birds living in the area.
Leave only footprints – Take only pictures.
For more information on Leave No Trace – see LNT.org
Where is this?
Fox Science Preserve is located at 2228 Peters Rd, Ann Arbor, MI. To get there take the Zeeb Rd exit from i-94 and head north to Miller Rd. Take a right onto Miller, then a Left onto Peters Rd.
Facts