A Ramble Through Beautiful Brauer Preserve

Brauer Preserve – Overview
In 2003, the Washtenaw County Natural Areas Preservation Program purchased 187 acres west of Ann Arbor from the Brauer family and then, seven years later, obtained an adjoining 39 acres. The result was Brauer Preserve, a 226-acre tract that protects diverse habitat types, from sandy knolls and upland oak/hickory forests to rich wetlands.
Heading to Brauer Preserve in Washtenaw County is a unique experience for nature lovers. This 226-acre tract protects diverse habitats, from sandy knolls to upland forests to wetlands, surrounding 85 acres of active farmland. The preserve provides a relaxing stroll – within sight of a big red barn to the mature trees and impressive fern communities that thrive in the hardwood swamp surrounding Lake Isabella. There are also plenty of trails, perfect for secluded walking. With its variety of habitats and views, Brauer Preserve is a great place to explore nature all year round. Whether you're looking for a peaceful stroll or an afternoon of outdoor adventure, Brauer Preserve is sure to please.
The preserved area has a 2-mile-long trail system consisting of four connected trails: Blue/Lake Isabelle Trail, Yellow/Woodland Loop Trail, Red/Oak Knoll Loop Trail, and Green/Far Fields Trail. Our walk below followed the Blue, Yellow, Red, and Lake Isabelle trails for about 2 miles.
Make sure to equip yourself with waterproof walking shoes or boots, as many trails may be wet and muddy, particularly the route leading to Lake Isabelle. Also, applying Mosquito repellant is a wise idea, as the little buggers are out in force in the summer and fall months.
We heartily suggest you head out and discover the stunning beauty of Brauer Preserve! You'll be glad you did. Immerse yourself in its magnificence and make unforgettable memories in the serene countryside with loved ones.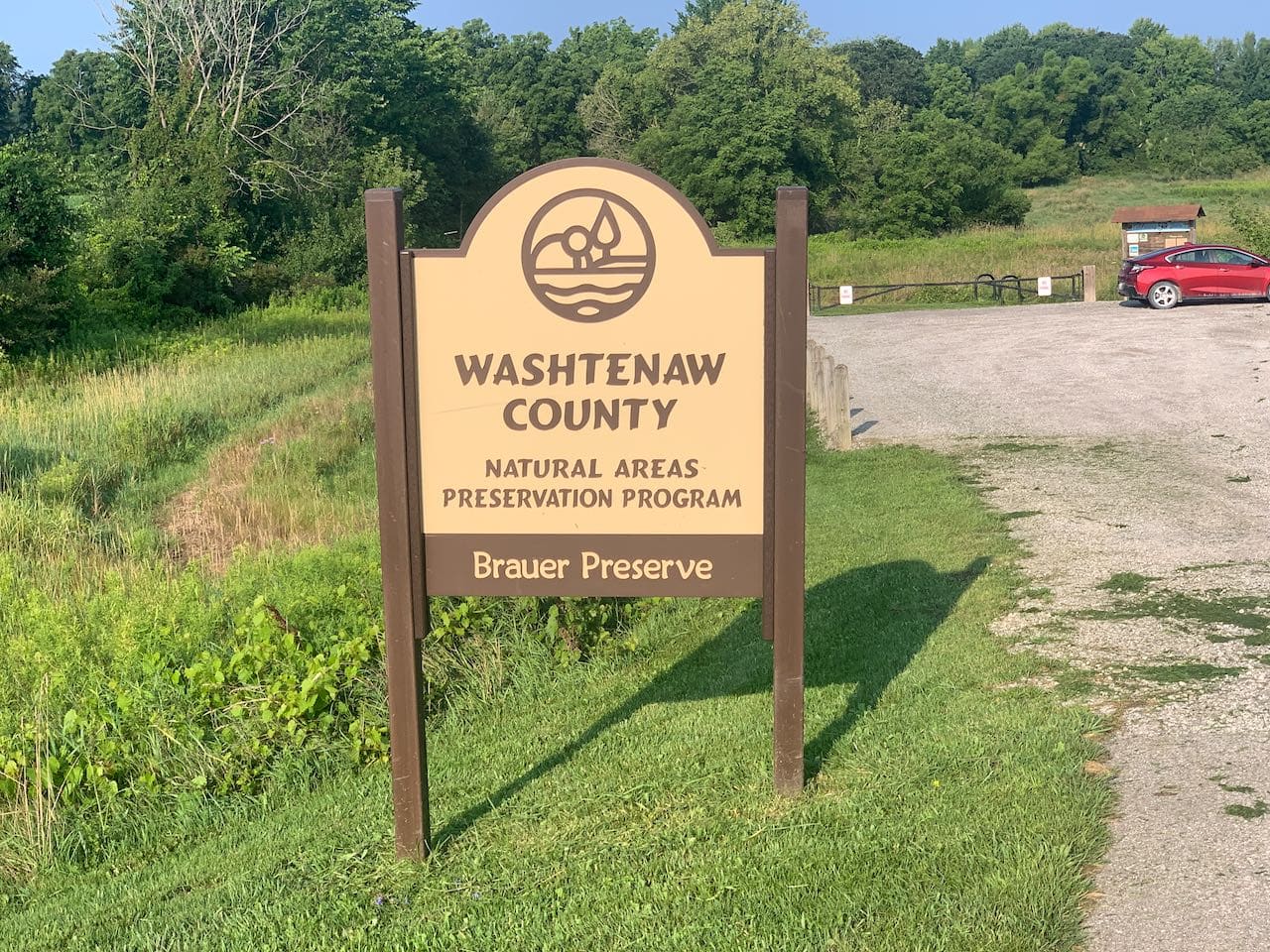 RATING
Scenery – 4
Trail Condition – 2 (spring)
Quiet/Solitude – 5
Difficulty – 2
Overall – 4
Trail-Packed Earth, Grass
Accessibility – See Below
Dogs Allowed – No
Bikes Allowed – No
Location – Lodi Township (see map below)
Gear Suggested – Waterproof Boots, Mosquito repellant, Long Pants & Sleeves
Park – The Walk
Getting to Brauer park is very easy. It's located just south of Scio Church Rd on Parker Rd in Lodi Township. There are signs along Parker that indicate the parking lot entrance.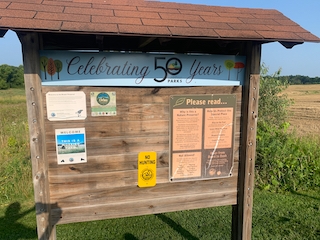 The path starts as a wide and well-maintained grass path into the (at least this year) cornfield. With the tall stalks on either side of the walk, it seems a bit like entering a corn maze, but in this case, you have a better prize when you get through it and enter the forest.
Once you pass through the crops, the path takes a turn and heads into the woodlands proper. The path here changes from a broad grassway to a simple trail. The trail passes into the woodlands, and you quickly find yourself surrounded by old oaks, hickories, and lush undergrowth.
This is your first chance to see the tranquil beauty of Brauer's forests. A mix of oak, hickory, and other upland trees makes this woods a great place to let your stresses go and drink in the stillness of nature.
Out of the first woods, you can join the Red Loop trail and head further into the preserve. The Red Loop's woods is a little thinner, but the trail winds up and down some sandy hills where the dappled light fills a wetland filled with native plants, mosses, and fungi.
I found one of my favorite plants here, the Ghost Pipe (Monotropa uniflora). Sometimes called the Ghost Plant or Indian Pipe, this delicate plant pops up a few days after a rainfall, dotting the forest floor with eery white stalks.
I found one of my favorite plants here, the Ghost Pipe (Monotropa uniflora). Sometimes called the Ghost Plant or Indian Pipe, this delicate plant pops up a few days after a rainfall, dotting the forest floor with eery white stalks.
Conclusion
The Brauer Preserve is an great place to explore and to spend some time in a rich example of a Michigan forest. The trails are well kept and the scenery keeps changing the deeper you explore into the area. The Lake is probably a better sight in the fall and spring rather than high summer, but it seems to be rich with wildlife and fowl. I'm looking forward to seeing how the forest changes with different seasons.
Path Taken
Total distance:
2.63 mi
Max elevation:
942 ft
Min elevation:
912 ft
Leave No Trace and Obey The Park Rules
Please Remember
Always leave no trace, pack out everything you take in. We suggest that you bring an empty bag with you so you can pack out your trash and remove any that you see along the way.
Stay on marked trails. Straying into the undergrowth can damage delicate ecosystems.
Parks and preserves are surrounded by private lands. Please be respectful of property boundaries and stay inside the public land.
Let someone know where you are going. Some areas have limited or no cell service, so if you get stuck you may not be able to call for help.
Read the notes, warnings, and information provided at the park readerboard/kiosk. There may be closed trails or special seasonal information.
Respect the no bikes, no dogs, and no horses rules. These are posted and may be updated at any time.
Respect wildlife and nature. Do not approach or disturb animals or birds living in the area.
Leave only footprints – Take only pictures.
For more information on Leave No Trace – see LNT.org
Where is this?
Park – Facts